All descriptions are for photo ABOVE the description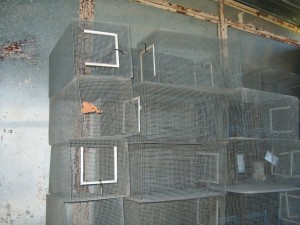 Cages above are approx. 1ft. x 1ft. x 2 ft. 1/4 inch mesh. There are 30. There are metal pans to go under them. Each metal pan is for 2 cages.
Price: $7. per cage. Sold only in units of 2 cages and one pan - Total $14. per set.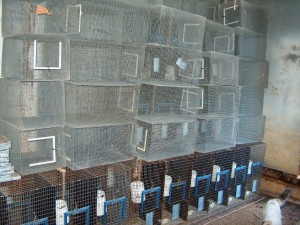 This shows the 1/4 inch mesh cages again. The ones underneath with blue doors are approx. same dimensions per cage but mesh is larger.
They are suitable for sugargliders, and other similar size animals. Many have a nest 'box' made of PVC pipe, a card holder, dish and clip for tube waterer.
They are in strips of from 5 to 10 cages with appropriate pans. They are divided with solid black PVC material to prevent fighting, etc.
They are meant to be suspended from the ceiling by wires with pans same way. They are priced at $6. per cage x the number of cages in that strip. The
appropriate pan goes with that strip. A strip of 5 cages would be $30. Any items inside a cage are free if they are in there when sold at no extra cost.
There are approximately 75-100 cages. Would prefer to sell all to one person.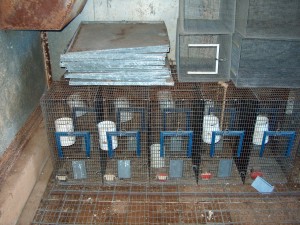 Shows closeup of the sugar glider type cages. The pans in this photo go with the 1/4" mesh cages.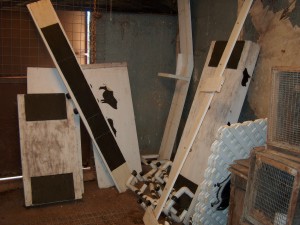 Pig agility set. Several obstacles - $200 for the set or $100 with any purchase of $250 or more, free with purchase of $500 or more.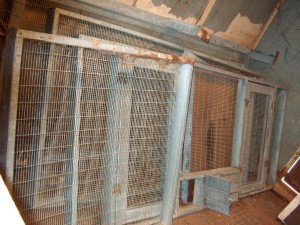 This is a large galvanized, heavy duty cage that is about 8-10 feet long, and is disassembled above.
It is divided in the middle, has doors, entries for food, etc. Excellent strong cage. Price $150 firm.
Also have TEN 24 x 24 x 18 inch rabbit cages with pans. They retail for $36. Will sell for $15. each. No pics today.